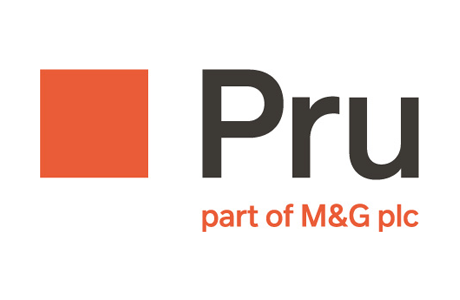 Prudential: Case study 3 - Funding for decumulation
If an investor is funding for their retirement (so they are accumulating to decumulate) a drawback to pensions or LISA is access. Pensions can't usually be accessed until age 55 (and it's under consultation to raise this to age 57 from 2028), and a LISA cannot be accessed penalty free before 60 (unless for a house purchase). For both pension and LISA, access can be permitted early for those with a life expectancy of less than 12 months.
But can an ordinary ISA be built up as the 'just in case fund' and further premiums be better deployed to a LISA or pension? Both have the effect of adding 25% to the payment, pay £800 into a relief at source (RAS) pension and you have a pot of £1,000, and it's the same deal you get in a LISA.
But if retirement saving is the aim, then which is best, the LISA or a pension? To keep it fair let's, assume access is required at age 60.
If £4,000 is paid into a LISA and assuming no growth at age 60, thanks to the government top up you will have £5,000. That's tax free and job done, it doesn't matter what tax rate you are, that money is not subject to income tax.
For non or basic rate taxpayers, getting £5,000 into a RAS pension costs them £4,000. So, a similar story to the LISA. The big difference is when they come to take benefits, 75% of the pension will be taxable (assuming that there are no Lifetime Allowance (LTA) issues).
If they're non-taxpayers in retirement (ie, they can get the pension income out within their personal allowance) then the net benefit is the same as a LISA. They get £5,000.
However, if they are basic rate in decumulation, they'd net £4,250 after basic rate tax has been deducted. Higher and additional rate taxpayers would net £3,500 and £3,313 respectively from £5,000 in a pension in retirement.
So, on the face of it, a pension only matches a LISA if you are a non-taxpayer when you retire. However, we have to factor in the true net cost of getting that £5,000 into a pension. For non and basic rate taxpayers, £5,000 in a pension does cost £4,000 the same as a LISA. You also have to assume here that they have the relevant earnings to make this contribution, as pensions are limited to 100% of relevant earnings of £3,600 if that is higher.
However, for higher and additional rate taxpayers (assuming the contribution is fully within that tax band) the net cost is £3,000 and £2,750 respectively. So that can alter the argument. What is the net return on the investment compared to the net cost? We know that for the LISA assuming no growth (and no penalties) you get back 125% of what you put in. For a normal ISA this would be 100%. But for the pension it then depends on what tax rate you are when you take the benefits. An additional rate taxpayer paying into a pension now, who is a higher rate taxpayer in retirement would see a 127% return on their investment, beating the LISA by 2%. They net £3,750 from the pension in retirement, for a net cost of £2,750.
All things being equal if that same person paid the equivalent of the net cost to get into the LISA of £4,000, they'd have £7,272 in a pension, the net payment to a RAS scheme would be £5,818 with a further £1,818 back in their tax return. A net cost of £4,000. If they took that in the higher rate the net benefit would be £5,090, so just beating the LISA.
The table below shows the effective return based on net cost of a pension, where this is marked as coral the returns would be less than a LISA, where green, the pension is the winner in terms of net benefit. Bearing in mind that the LISA has the 125% return. Blanks make no difference either way (although remember that pensions are usually IHT free on death, a LISA will be liable to IHT, unless it has invested in shares that attract business property relief and has been invested for two years prior to death.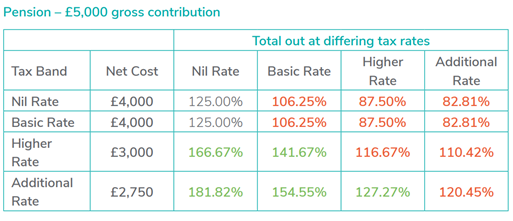 So as you can see in the table above, for a basic rate taxpayer (now and in decumulation) who can fund a LISA (as remember you have to be under 40 to start one, and contributions have to stop at age 50) then all things being equal the LISA provides a better return. It's horses for courses, but for the retirement accumulator, knowing their likely tax band in retirement is the key to getting the right outcome.