Visit the Test Zone
You'll be asked to log in before you can access the test zone, if you haven't already.
Not registered with us? See below for details
Paradigm have enhanced our award-winning CPD Academy by developing a Test Zone in response to the requirements for advisers to be certificated as 'fit and proper' to perform their role.
The Test Zone provides video learning followed by multiple choice questions and case studies which assist with putting the learning into practice. These tests allow advisers to regularly test their knowledge and understanding of key areas of risk.
When taking the tests, if you pass you will be sent an email containing your result and CPD certificate worth either 30 or 45 minutes of CPD (depending on the module), a log of which will then be added to your account. If you fail the test you will be re-directed to sit another set of questions.
Firms can now complete their annual training on the following topics via the CPD Test Zone:
Anti-Bribery and Whistleblowing
Anti-Money Laundering - Module 1
Anti-Money Laundering Module 2 - Duties of the MLRO
Certification
Code of Conduct (COCON)
Complaints Handling
GDPR: Understanding your obligations - Module 1
GDPR: Understanding your obligations - Module 2
Mortgage Fraud
Senior Manager & Certification Regime (SM&CR)
Vulnerable Clients
* We've developed two tests here – one for administrators and advisers etc., and one for the Money Laundering Reporting Officer.
A Supervisor or Senior Manager responsible for certificated employees can oversee these tests and the adviser's results, helping them to decide on further training if required.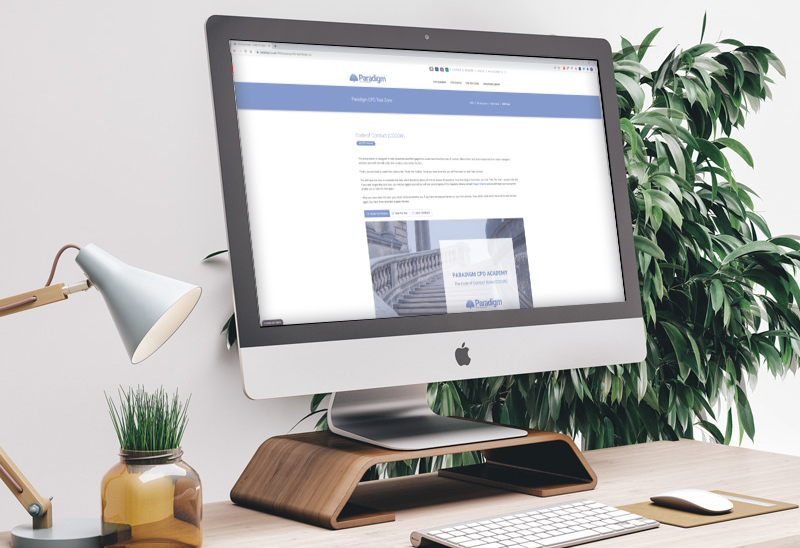 Pricing
If you do not have a Sales contact or are not an existing Paradigm member, please contact the team on 03300 536061 and select Option 4 and one of our Relationship Managers will be able to help.
Getting Started
Once you have spoken to Paradigm about pricing, the team will be able to arrange access to the Test Zone for you. In order to use this, you will need to be registered for our CPD Academy. Please click here to register.
If you have any questions, please call the team on 03300 536061 and we'll be happy to help.