Coventry for intermediaries
Our commitment to you
We're your dedicated point of contact and are here to give you the support you need quickly and efficiently. For years, our pledges have demonstrated our commitment to intermediaries. We really are dedicated to providing outstanding service to both you and your clients. That's why we give you 2 BDMs - one in the field and one on the phone, as well as online chat for quick help with products and policy. We also respect that your clients are your clients. At maturity, we direct them back to where their journey with us began – and that's you.
Our unique four pledges demonstrate our business principles and our dedication to you and the intermediary market.
1. We'll give you 48 hours' notice before we withdraw a product
2. We'll always be open and honest about service levels
3. We'll never cross-sell insurance to your customers
4. We'll give your customers the same products, rates and service
Overview
Residential - Whether they're looking for flexible product features or competitive rates, our Standard Residential product range can offer your clients a range of LTVs, variety of product fee options and several features.
Buy to Let - Godiva Mortgages Limited is your dedicated Buy to Let (BTL) provider through the Coventry for intermediaries. We offer support for you and your clients, providing a strong BTL product range with excellent service and our industry expertise.
First time buyers – Help your clients to purchase their first home and get a foot on the property ladder with a mortgage from our residential range.
Self-employed - We're experienced in lending to directors of limited companies, sole traders and daily rate contractors, making us a good choice for self-employed clients.
Product transfers – Kept simple with no forms to fill in and we pay 0.30% proc fees. All products are available to existing customers. (All lending is subject to current product terms, lending policy, product availability and eligibility).
Flexx Range - Our innovative Flexx Fixed range offers the benefit of unlimited overpayments with no ERCs.
Interest-only mortgages - Our interest-only product range includes Fixed rate and Offset mortgages that could be a great choice for many of your residential clients.
Our simple Offset
We're a great choice for offset mortgages, and here's why:
We keep it simple – unlike others, we only have one savings account linked to the mortgage
We have a great range of LTVs and products
Your clients can apply to borrow more at the same rate (subject to eligibility, LTV and lending policy)
Your client has easy access to their savings - via Online, telephone banking and ATMs
Supporting Portfolio landlords
If your client has four or more mortgaged Buy to Let properties they are defined as a portfolio landlord. We have a streamlined application process and here's why:
A simple, straightforward process. Complete just one portfolio landlord spreadsheet which has automated calculations, to confirm if the application fits our criteria

We know your time is precious. That's why there's no need to do an AIP, just go straight to a full application and there's no need to submit a business plan

Familiarity is key. That's why our standard BTL policy and simple ICR criteria also applies to portfolio landlords

An experienced team. We have a dedicated team of portfolio landlord underwriters that really understand the market and ensure quick case progression
Your Intermediary Support Team
Tel - 0800 121 7788
(check website for opening hours)
Email
-
[email protected]
BDMs
- To find out who your BDMs are, use our
BDM Finder
FOR INTERMEDIARY AND PROFESSIONAL FINANCIAL ADVISORS ONLY. NOT FOR CUSTOMER USE.
Proc Fees
| Product | Gross | Net | Gross Min | Gross Max |
| --- | --- | --- | --- | --- |
| Standard | 0.43% | 0.40% | No min | £15,000 |
| BTL | 0.43% | 0.40% | No min | £15,000 |
| Product Transfer | 0.30% | 0.28% | No Min | £15,000 |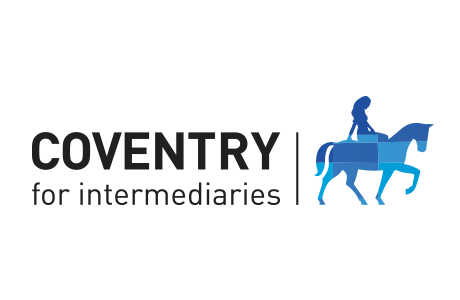 ---
Links
---
How to Register
Registering for the first time:
To start the registration process, please call the Coventry Intermediaries support team on 0800 121 7788. After giving basic company information, you will be sent an email containing a company registration form, and a broker registration form for any individuals looking to also be registered. Please ensure you select Paradigm as a payment route. Once this has been received, you should be contacted within 24 working hours with login details to access their website.
Add Paradigm as payment route:
Call 0800 121 7788 or email Coventry requesting to add Paradigm.