As an industry, in recent years we have seen increasing instances of fraud. At Paradigm, we are constantly looking to support intermediaries and help to protect them from such risks. We have three resources which we believe will help you to protect your firm against mortgage fraud.
Mortgage Fraud Guide - Prevention and Cures for Advisers
We created a FREE eBook guide of Prevention and Cures for Advisers from attacks of Mortgage Fraud. In this guide, we discuss mortgage fraud and what to look out for, as well as giving you hints and tips on how to prevent it.
The eBook is available in our Literature Library here and covers the following areas:
Most common types of fraud in the Mortgage market

The typical characteristics shown by customers who may be committing fraud

What to look out for on documentation provided by clients - payslips and bank statements

Other areas of fraud in the Financial Services industry

Prevention - Tools that can help firms combat fraud without too much expense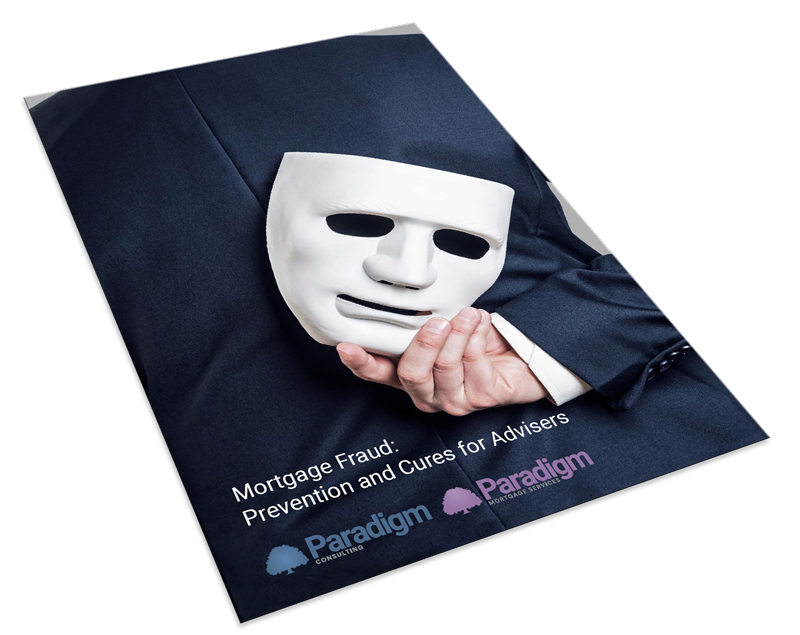 Fraud File Review Checks
We now offer a new Fraud File Review check as an option for your firm. This can be purchased as a standalone service, without you needing to buy other compliance services from Paradigm. Paradigm's experts will look at selected files your firm may consider to be at risk, or where your firm might have received a decline letter from a Lender due to inconsistencies. We will be able to help you identify any inconsistencies that there might be which will potentially assist you in dealing and communicating with the client and Lender post-file review. This service is priced at £500+VAT for a day, which consists of 5 fully comprehensive file reviews. Using this type of support can also help you demonstrate to lenders and the FCA how you deal with combatting Financial Crime within your business and can serve you well as an overall prevention rather than cure for Mortgage Fraud.
Please get in touch if you have any questions, or if you believe that this Fraud File Review service would be beneficial for your firm.
Unity Financial Crime Services (FCS)
Unity Financial Crime Services (FCS) provide essential and bespoke, Mortgage Financial Crime Risk training, guidance and support for individuals and firms working in the mortgage and lending sector.