Welcome to your
Mortgage Helpdesk Support Hub
Paradigm offers members access to our highly commended Mortgage Helpdesk team, who are on hand to support members with general mortgage enquiries and help placing complex cases. If you are struggling to place a case for a client, you can call our Mortgage Helpdesk to get some guidance on which Lenders could assist, saving you a lot of time compared to doing this research yourself.
Once registered as a Paradigm member, you can contact James, Adam and Katrina via the telephone helpline 03300 536061 or via the email [email protected], where they endeavour to respond to your enquiry within two business hours.
In addition to this, the Mortgage Helpdesk create hints and tips guides, monthly Residential affordability stress testing and quarterly mortgage market newsletters, to help our members maximise their efficiency. These are regularly emailed out to members and can be viewed here.
Paradigm also produce relevant regulatory bulletins and eBooks which are made available to all intermediaries, topics covered include the SM&CR, mortgage fraud and the IDD. You can view these under the Regulation tab on our website.
Don't forget that to benefit from the Paradigm profit share scheme, you will need to use Paradigm as your payment route when you submit mortgage business to a Lender. If you haven't already done so, you can find a guide on how to add Paradigm here.
---
Criteria Corner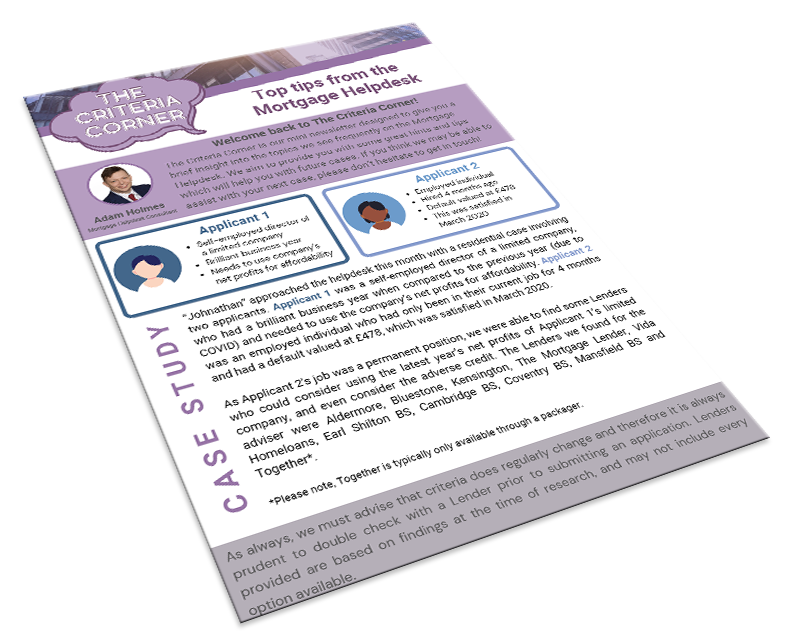 As always, we must advise that criteria does regularly change and therefore it is always prudent to double check with a Lender prior to submitting an application. Lenders provided are based on findings at the time of research and may not include every option available.
Register for our Mortgage Helpdesk Criteria Sheets
If you'd like to access our Mortgage Helpdesk team's criteria sheets which will give you guidance on placing complex mortgage cases, please register here.
I use the Paradigm Mortgage Helpdesk on a very regular basis as they provide an excellent service which saves me valuable time. If I have a problem case, or one that has an unusual criteria requirement, I can contact Tom or Alex at the Helpdesk and they will source a solution for me. It saves me a huge amount of time ringing round lenders or their BDM's, they either have the answer at their fingertips or will go and find out for me. Their response times are superb and if it is going to take a little longer then they will tell me and always come back within 24 hours.
Tony Vessey
Hunter Hammond Daniel Associates Limited
I use Paradigm Mortgage Helpdesk virtually every day….I cannot rate the team highly enough. I seem to get very unusual/quirky cases which often prove difficult to place. Their advice is proving invaluable. It saves me so much time trying to source the right lender(s). They always endeavour to come up with a solution to even the most tricky cases, and I truly value their constant support and help. They are brilliant!!
Sue Beeston
Mortgages-Online