Who Are We?
Unity Financial Crime Services (FCS) provide essential and bespoke, Mortgage Financial Crime Risk training, guidance and support for individuals and firms working in the mortgage and lending sector.
Who benefits from our services?
Mortgage and lending professionals such as mortgage advisers, administrators, compliance support, anyone who is involved in mortgage and lending services, where managing and mitigating Financial Crime risk is an essential part of their everyday role.
Our Credentials
Sally Waddingham is a much respected Mortgage Industry and Financial Crime Risk Expert with a successful 35 year career, specialising in Financial Crime Risk on behalf of Yorkshire Building Society and Accord Mortgages. Creating Unity Financial Crime Services in 2018, Sally now works closely with mortgage professionals, keeping up to date with ever evolving and increasing financial crime risks and sharing her vast experiences and knowledge, providing bespoke education, guidance and invaluable support. Sally's aim is to raise awareness and teach others how to proactively keep safe, to reduce fiinancial crime risks but If issues do arise, also providing guidance around remedial actions, such as investigating and reporting matters and implementing improved controls and processes, where necessary.
Why you need us
Understanding, managing and mitigating increasing financial crime risks has become an essential requirement for everyone working in the mortgage and lending Sector, to meet Legal and Regulatory requirements. As borrowers face financially stressful times and lenders tighten up criteria and affordability, in addition to a challenging property market, we are seeing an increase in mortgage fraud being perpetrated. Unity FCS provides invaluable training, guidance and support to help increase knowledge, awareness and skills, to help avoid the following impacts that could affect your business: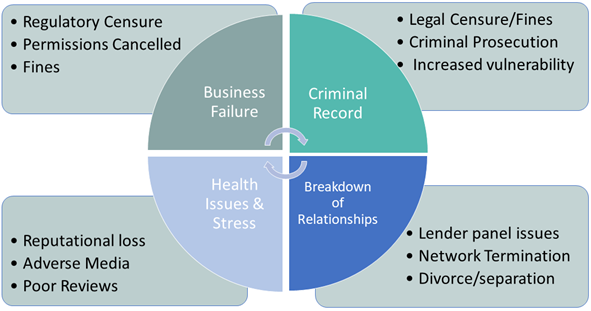 Virtual Fraud & Anti-Money Laundering (AML) Training Courses
Unique and bespoke Training Sessions have been designed and written by mortgage fraud expert, Sally Waddingham. These interactive sessions have proved a huge success. Hundreds of delegates, with a range of experience, have attended, benefitting the individuals and their firms. They have consistently provided positive feedback, regarding the expertise of the presenter, varied, relevant content, interactive format and overall value of attending the sessions.
Virtual delivery enables sessions to be flexible and convenient to fit within busy schedules.
All sessions cover a vast range of Fraud & AML topics and risks, relevant to the role and responsibilities of delegates
The interactive format allows delegate participation, ability to ask questions, improve knowledge, share experiences and understand the Lender/Regulator/Legal perspective.
The presenter shares real life case studies and fraud examples, bringing the learning to life to help embed understanding and awareness.
Pricing
Unity FCS ensure that training and support is affordable to all individuals and firms, priced according to your needs, requirements and firm size. We are delighted to offer a 10% discount on our services to Paradigm member firms. As an example, our highly-commended Fraud and AML masterclass ranges from £550-£795 per firm before discount.
What our delegates say about our courses...
Excellent presentation. Time well spent on a very topical area
Very informative & enjoyable experience
Very engaging & useful day
Good course. Refreshed my knowledge
What the FCA says about managing and mitigating Financial Crime Risks…
"As part of our responsibility to ensure the integrity of the UK financial markets we require all authorised firms to have systems and controls in place to mitigate the risk that they might be used to commit financial crime.'

'We are intensifying our crackdown on mortgage fraud to tackle this serious and widespread problem. It is essential that, as a mortgage broker, you have sufficient controls in place to prevent your firm being used for committing fraud."
Ensure You Are Meeting Legal Requirements Under the Proceeds of Crime Act (2002)
Annual and regular AML training is strongly recommended by the Regulator, for all individuals working in Financial Services, including the mortgage and lending sector. This will help to provide clear understanding and adherence of existing Legislation, to ensure you don't break the law and face serious consequences.
Contact Unity FCS today to discuss how we can help you meet your Regulatory and Legal obligations, reduce your risk and avoid serious issues and consequences.